LaSalle Investment Management ("LaSalle"), one of the world's leading real estate managers, has launched the development of 100YARDS in the prestigious Na Příkopě street in Central Prague.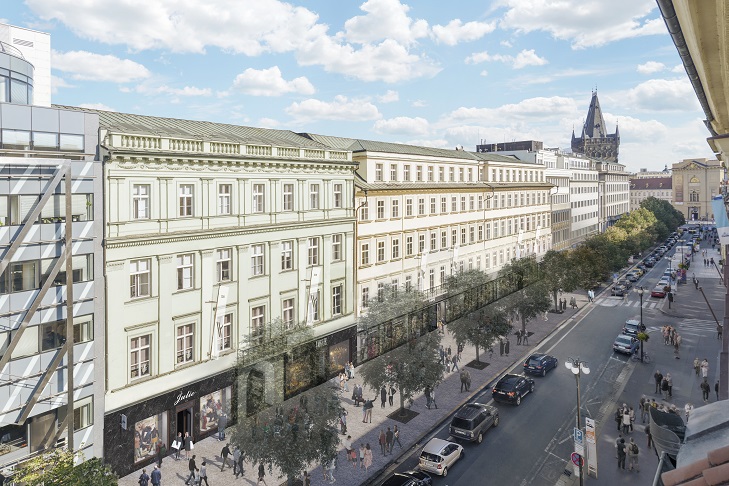 The project will transform three separate buildings into one world-class mixed-use complex which will feature a landmark new shopping destination and premium office space. The refurbishment of the complex, originally built in the 19th century, has now begun, and 100YARDS is scheduled to open in the second half of 2024. The project is being designed by architects from Studio acht led by Václav Hlaváček, and is being managed by Gleeds.
The project's name is drawn from the combined length of the façades of the three connected buildings; Na Příkopě 23, 25, and 27. Together they add up to 100 yards in the imperial measuring system, which is equivalent to around 91 metres. The combined façade covers 10% of the entire length of Na Přikopě, and once complete, the project will provide the longest continuous exposure to the famous high street by a single landlord.
Environmentally-friendly technologies and advanced well-being parameters will inform the project from start to finish. These features include light pollution reduction, renewable energy support through purchases of green energy, smart metering systems, and intelligent control of electricity consumption. The property will feature rainwater harvesting for the irrigation of greenery and a drinking water management system for a one-third reduction in water consumption.
The construction phase is also marked out by an emphasis on sustainability. Low-emission products are being utilized, while original materials are being re-used to reduce embodied carbon in the life cycle of the building. LaSalle will submit the completed project for sustainability accreditation, aiming for a rating of LEED® Gold.
The refurbishment will also focus on the location's monumental heritage, with the preserved historical classicist façade contributing to the premium character of the property.
100YARDS will offer significant leasing opportunities. Three floors of prime retail space will be available, with two floors above ground and one floor below ground. In total, 3,600 square metres of retail space will be offered, with flexible layouts in units of up to 1,000 square metres, providing perfect space for flagship stores of major global brands. Cushman & Wakefield is the exclusive retail leasing agent for 100YARDS.
The project will also offer 3,500 square metres of premium office space across three floors. Options for office tenants will include flexible layouts as well as 300 square metres of spacious terrace and yard spaces with greenery for outdoor working and communication. JLL has been appointed as the exclusive office leasing agent for the project.
By combining three historic buildings on one of Central and Eastern Europe's most prestigious high streets, the 100YARDS project will be a major step in the evolution of the Czech capital's central shopping district.
Hagen Knaupp, Head of Asset Management, Continental Europe at LaSalle Investment Management: "100YARDS will be a new premium retail and office destination in one of the most significant high street destinations in Central and Eastern Europe. A location with millions of annual visitors will provide unparalleled opportunities for the world's leading brands in the heart of the city. Having one of the longest exposures to Prague's high-street retail, we have a unique chance to transform the whole area into an appealing location for local communities as well as tourists. The project will also feature some of Prague's most desirable office space, designed and built according to the latest technical and sustainability standards for the benefit of tenants and their employees."
Václav Hlaváček, Chief Architect, Studio acht: "Connecting three buildings in such a prime location to create a continuous whole is an exciting challenge. The result will be a functional and sustainable retail and office centre with high technical standards and flexible layouts. Tenants will benefit from modern shop and office concepts and a high-quality working environment within a faithfully preserved historical setting."
Source: LaSalle Investment Management
Prague, September 05. 2022